Dan's cousin who visited last week is a geologist. We burned our pasture during his visit. He then noticed the many outcroppings of pink boulders and pointed out we are sitting on the edge of a glacier melt. This prompted me to research the topic.

The pink boulders were recognized in northeastern Kansas by the French explorer, De Bourgmont in the early 1700s. Their origin was a mystery until 1868 when Louis Agassiz visited the area. He was a controversial scientist who popularized the concept of a recent Ice Age in earth history. He correctly identified the pink boulders as erratics transported from as far north as the now Minnesota region by an ice sheet.

The following is a quote from Glacial Geology of the Kansas City Vicinity:

"Along the edge of the ice lobes, glacial lakes were dammed in pre-existing valleys, and meltwater floods eroded spillway channels around the ice margin. All these features serve to identify the effects of glaciation in the region. During the late Independence glaciation, ice lobes advanced farther south and locally blocked the Kansas and Missouri River valleys east and west of Kansas City. Numerous meltwater spillways were eroded and glacial lakes filled and overflowed along the maximum limit of glaciation. These spillways are preserved as valleys parallel to and south of the Kansas and Missouri river valleys. Some of these spillways were later filled with sediment and others remain open valleys today. A good example is the Wakarusa River valley in Shawnee and Douglas counties, Kansas."

The river south of our house is the Wakarusa and we are on the north slope of its valley. Our house sits at the edge of what once was a massive ice sheet that covered most of the continent north of this spot. The granite rocks in our pasture were transported to this spot by the ice. Up until this past weekend, I had not thought about the fact that I actually live on an area that was formed thousands of years ago. It is truly amazing.

Please click on the link and read the entire article. It is more detailed and includes graphics. Also, below are pictures of the red granite rocks.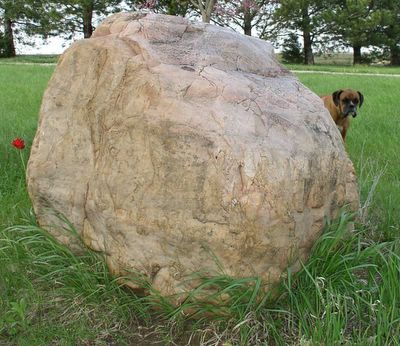 This granite rock is in our yard. It came from our basement area.

This is a ditch full of the Minnesota granite rocks removed from our basement area as well as areas in the pasture where we wanted to put up the hay. Our two families & our grandkids are looking over the accumulation for the perfect rocks for their landscaping. One problem, these buggers are heavy